Hall County Board Member Sam Chapman Named Pioneer in Education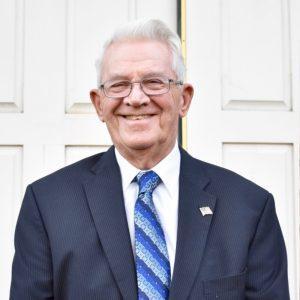 The Hall County School District proudly announces that school board member Sam Chapman is its Pioneer in Education for 2021. Pioneer RESA presents the award annually to those individuals who make a positive impact on students and education, and each of the 15 districts within its service area names its recipient.
This year's recipients will be honored on Friday, November 5 at 9:00AM at The Venue at Cenita, in Cleveland Georgia.
Chapman is in his 14th year of service as a school board member for the Hall County School District.
Superintendent Will Schofield, who has served alongside Chapman for the entirety of his school board tenure said, "In many ways, Sam Chapman represents the man I want to become. He continues to be an example of what good, noble and true looks like when it is wearing shoes and serving others."
A farmer and a long-time supporter of agricultural education, Chapman has spent a great deal of his tenure advocating for workforce readiness programs and facility improvements—most recently the district's newly developed Agribusiness Center. Chapman has always been a staunch supporter of local control with regard to educational issues.
In summing up Mr. Chapman's contributions and level of commitment to the students and families of Hall County, Kevin Bales, Assistant Superintendent for Teaching and Learning, says it best: "Sam is a man that has overcome challenges in many forms to chart an admirable course for his family, his church, his community and his school district. He is a true pioneer."
Recipients of the Pioneer in Education Award serve their districts in a number of different roles: teachers, directors, board members, transportation specialists, etc. The key criteria is having made a substantial, positive impact on the lives of students.