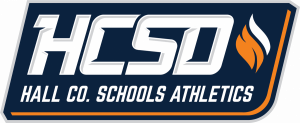 Welcome to Hall County Athletics!
Our mission is to provide an athletic program that develops character in student athletes while igniting the passion and courage to compete. We envision an environment that instills in our young people a desire to put forth their best effort, to have pride in their team, school, and community. We strive to develop student athletes who are not afraid to fail or face a challenge, who repeatedly toe the line and demonstrate grit in the face of adversity. And most importantly, we endeavor to work alongside stakeholders to help produce respectful young men and women who will graduate and make our community stronger. Our seven high schools and their feeder programs are committed to this vision.
Please know that we are also committed to communicating effectively with parents and stakeholders. If you have questions or concerns, please first contact your student-athlete's head coach and schedule a meeting.
Athletics and extracurricular activities play a vital role in helping to develop well-rounded students. The lessons learned through sportsmanship and competition last a lifetime and are passed on from generation to generation. We consider it an honor to be a part of this process, and we thank you for your support.
Sincerely,
Stan Lewis Director of Communications and Athletics
Hall County Schools
Developing character in student athletes while igniting the passion and courage to compete.
The school system offers a number of competitive programs in both male and female sports at the middle school and high school levels.  To participate, students must meet specific eligibility requirements, including having passed a minimum of 70% of all course work in the semester preceding participation, having taken a medical physical for the year of participation, and having proof of health insurance.  Please view the athletic documents in this section for additional information about participation in competitive sports programs.
*Questions about Athletics should be directed to the schools local Athletic Director.
High School Inter-Scholastic Athletic Programs Offerings:
| | | |
| --- | --- | --- |
| Football | Basketball | Baseball |
| Track | Tennis | Golf |
| Swimming | Wrestling | Soccer |
| Volleyball | Cross Country | Cheerleading |
| Softball | | |
Middle School Inter-Scholastic Athletic Program Offerings:
| | | |
| --- | --- | --- |
| Football | Cross Country | Basketball |
| Track | Wrestling | Soccer |
*Additional middle school-aged programs are available through cooperative programs with Hall County Parks and Leisure Services, including baseball and softball.
Elementary-aged students have multiple opportunities to participate in a variety of sports programs run by a number of local agencies serving youth sports including Hall County Parks and Leisure Services, Lanier Soccer Association, Georgia Mountains YMCA, and North Georgia Youth Football League.