FBHS Junior Places 3rd in National Poetry Competition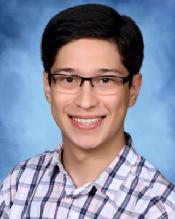 Alejandro Campo, a junior at Flowery Branch High School, recently finished in 3rd Place at the 2019 Poetry Out Loud National Finals that were held in Washington, D.C. on April 30-May 1, 2019.  As the representative from Georgia, Alejandro competed against all state winners from across the nation as well as representatives from Puerto Rico, the U.S. Virgin Islands, and the District of Columbia, a field of fifty-three (53) contestants.  During the competition, he advanced through multiple rounds to become one of nine (9) national finalists.  His 3rd Place finish also earned him a $5,000 scholarship.
Alejandro Campo was introduced to the Poetry Out Loud competition as a sophomore at Flowery Branch.   His teachers, Denise Ramsey and Chelsea Woodall, made it an assignment in Honors American Literature.   He won his class competition and then won first place for the school.   He advanced to regionals but did not advance past that level.   However, Alejandro said that the experience created a desire to learn more about Poetry Out Loud and to prepare for the next competition.  This year, Dr. Patrice Pennington, his Advance Placement (AP) English Literature teacher, assigned Poetry Out Loud to the class.
Using his past experience and preparation, Alejandro won the school competition, won the regional competition, and then won the state competition to advance to the nationals.  At the national finals, the contestants were to choose three poems from an approved list for their presentations.  Alejandro chose "Undivided Attention" by Taylor Mali, "Dream Song 14" by John Berryman, and "Dover Beach" by Matthew Arnold.
Poetry Out Loud, a free national program sponsored by the National Endowment for the Arts and the Poetry Foundation, encourages high school students across the country to learn about great works of classic and contemporary poetry through memorization and recitation. Poetry Out Loud is administered in partnership with the State Arts Agencies of all 50 states, the District of Columbia, the U.S. Virgin Islands, and Puerto Rico. Not only do they share their interpretation and delivery of poetry; they also vie for awards and scholarships totaling $50,000.
The state of Georgia competition is sponsored by the Georgia Council for the Arts, which, in turn, uses the Atlanta History Center (AHC) as the facilitator for this particular literary event. Emily Cobb, AHC Outreach Program Manager, serves as Poetry Out Loud State Coordinator (she can be reached via email:  Ecobb@atlantahistorycenter.com).
Poetry Out Loud Announcement of the 2019 Finalists:  https://www.arts.gov/art-works/2019/who-will-be-2019-poetry-out-loud-national-champion