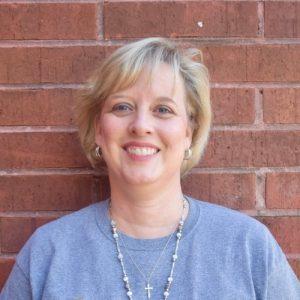 Hall County School District Superintendent Will Schofield has announced that Cindy Grier, a teacher at East Hall High School, has been named the HCSD Teacher of the Year for 2018-2019.
Ms.Grier, a member of the Math Department at EHHS, has been a teacher in the district for nineteen (19) years, all at East Hall. She began her career in education at Brenau Academy where she served from 1992 to1998.
She earned a Bachelor's Degree from the University of North Georgia in 1989, a Master's Degree from Brenau University in 1997, and an Education Specialist Degree from Piedmont College in 2006.
Cindy Grier will now compete with other system winners from across the state for the honor of being selected Georgia Teacher of the Year for 2019.
"Shock was my initial reaction upon learning I'd been selected as Hall County Teacher of the Year. When Mr. Schofield walked into my classroom, I was speechless. I began to put things together once I noticed my principal, Mr. Cooper, was holding a vase of flowers, but I honestly couldn't believe what I was hearing!
Hall County is an exceptional school system with teachers who are second to none. To be chosen from a pool of so many talented and dedicated educators is a bit overwhelming, to say the least. I feel truly honored and blessed to have received this recognition.
This year, I teach Pre-Calculus and Honors Pre-Calculus. In recent years, I've taught Analytic Geometry and Advanced Algebra."
Below is the list of Teachers of the Year for each school Download the document below here.
2018-19-List-of-TOTY-1

https://www.hallco.org/web/wp-content/uploads/2018/04/2018-19TOTYCindyGrierNewsPhoto.jpg
123
171
joseph.canada
https://www.hallco.org/web/wp-content/uploads/2017/12/HallCountySchoolsLogo.png
joseph.canada
2018-04-17 19:27:05
2018-04-20 12:51:29
Cindy Grier Named 2018-19 Teacher of The Year