The Hall County School District is proud to announce that Katie Maynard of Johnson High School and Adolfo Castellanos of Cherokee Bluff Middle School have been named 2021 Davis Scholars. Both of these outstanding teachers have been awarded a $500 scholarship towards the pursuit of an advanced degree.
The Hall County School District administers the C.W. Davis Scholarship, which is in honor of the distinguished life and career of C.W. Davis. Mr. Davis attended Vanderbilt University and the University of Georgia and was named principal of the original Flowery Branch High School in 1953. In 1960, he founded the Lanierland Basketball Tournament, which continues to this day. After serving as principal of South Hall High School, he became superintendent of Hall County Schools from 1977 – 1983. C.W. Davis Middle School was named in his honor in 1999. The C.W. Davis Scholarship has been established in his honor to assist current Hall County teachers as they pursue advanced degrees and a life-long career in education.
Maynard, who teaches Geometry at Johnson High School, is pursuing a Master's Degree in Math Education at Georgia State University. In her application, she stated: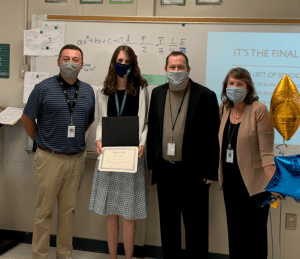 "When the students stepped into my class that first day, it clicked. All the nerves and doubt that I had built up that summer dissipated. These were my kids. This was my classroom. This was my job. I would teach these students to the best of my ability and when I fell short, I would learn from it and do better the next day. My kids were worth it. They were worth the long hours that I put in. They deserved a teacher who loved math and who would share that love with them…My students deserve to have the best teacher and although I am far from perfect, I believe that furthering my education and increasing my understanding of mathematics pedagogy will make me a better educator."
Castellanos, a 7th Grade Language Arts teacher at Cherokee Bluff Middle School, is pursuing a Specialist Degree in Curriculum and Instruction through Piedmont University. In his application, he wrote: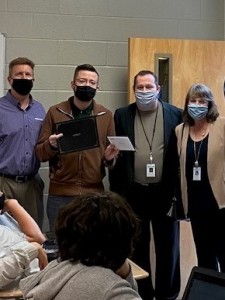 "Through teaching, I can pass my passion on to the students and help them understand how a better grasp of the English language will help them throughout their lives…I wish to pursue a graduate degree because I have more to offer the students, my school, and the county. By obtaining my graduate degree, I will have a firmer grasp of the work that develops a curriculum and how to implement that curriculum in my classroom and others' classrooms. I've always felt that what I am doing helps the students grow, but I want to make sure that I am developing. We always tell the students that we want to help them become lifelong learners. This is a belief that we should model for them."
Hall County teachers who are named as Davis Scholars receive a non-renewable award towards the pursuit of an advanced degree, payable to the college or university.
A selection committee, including a Davis family member and Hall County administrators, screens and evaluates applications for the C.W. Davis Scholarship.
Eligibility Requirements:
Applicants must be Hall County teachers who have completed between 3 – 7 years of teaching
Teachers must plan to remain in an education-related field and must be accepted into or already be enrolled in an education graduate degree program at Brenau University, Georgia State University, Piedmont College, the University of Georgia, or the University of North Georgia