2805 Sardis Road
Gainesville, GA 30506
Phone: (770) 532-0104
FREE MONEY!
Sardis participates in several FREE fundraisers. We have raised thousands of dollars through these free programs. We are always looking for individuals and business partners to support us. Learn more about our programs and how you can help raise money for Sardis for FREE!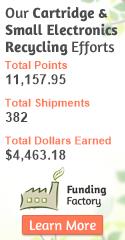 Funding Factory Organization ID #33552
Thank you to the businesses already recycling on our behalf:
Kraft CPAs, Nashville, TN
Georgia Mountains YMCA
Enrichment Clusters
What are Enrichment Clusters?
If you have been a Sardis for a short time or for years, you will undoubtedly hear our students excitedly talk about "clusters". What is this talk and how does this work within the school?
Enrichment clusters are opportunities for students to engage in type 2 enrichment learning. For an 8-10 week period in the Fall and in the Spring students have the opportunity to join a cluster and explore their interest.
Based on student surveys and interest inventories enrichment clusters are created and students vote for placement in their top choices.
Once clusters begin students are engaged in interest-based learning that is authentic, within a small group, and focused on the end result of creating a product or service for the community.
See the Enrichment Cluster PowerPoint for more information about the latest clusters…