2805 Sardis Road
Gainesville, GA 30506
Phone: (770) 532-0104
FREE MONEY!
Sardis participates in several FREE fundraisers. We have raised thousands of dollars through these free programs. We are always looking for individuals and business partners to support us. Learn more about our programs and how you can help raise money for Sardis for FREE!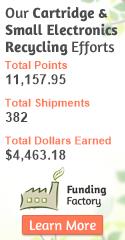 Funding Factory Organization ID #33552
Thank you to the businesses already recycling on our behalf:
Kraft CPAs, Nashville, TN
Georgia Mountains YMCA
K-2nd Grade SEARCH

This year, Mrs. Fawcett will work with SEARCH students in Kindergarten, First Grade, and Second Grade. Check back often to see what students have learned, produced and created!  To learn more about week to week happenings, click here to go to Mrs. Fawcett's teacher website: 
Click here for a copy fo the "Welcome to SEARCH parent letter":  search_news_welcome_letter.pdf This document contains our weekly schedule, information about communication and our program goals for the year.
PARENT MEETING:  SEPT 22nd, 6-7pm in the Media Center/Library 
Below is a summary of what we will be working on for the beginning of the 2011-2011 school year:
Coming up in First and Second Grade SEARCH with Mrs. Fawcett:
For the first weeks of school we will begin with the Hall County SEARCH unit:
    "Stepping into SEARCH"
Unit Description:
Grade Level: Gifted Primary        Time Frame: Approximately 4-8 weeks
Rationale: "Stepping into SEARCH" is a multidisciplinary unit intended as an introductory unit for primary students entering the gifted program. The unit is designed to introduce Howard Gardner's 8 Multiple Intelligences through the theme of shoes. There is a shoe to represent each of the 8 intelligences. The students will complete multiple intelligence inventories to self-discover their own personal MI strength areas. Each week is designed to give students hands on activities that go along with each of the 8 intelligences. Creative thinking skills will be introduced during the unit to help build understanding of fluency, flexibility, originality, and elaboration. Students will be introduced to rubric assessments as they walk through experiences with divergent thinking and higher level thought processes.
Coming up in Kindergarten SEARCH with Mrs. Fawcett:
For the first few months of the year, Mrs. Fawcett will visit Kindergarten classes to provide opportunities for creativity and critical thinking with students.
 
SEARCH activities will be done in collaboration with the regular classroom teacher.  There is no resource SEARCH since Kindergarten students are not referred for entry into the SEARCH program until January (per county guidelines).